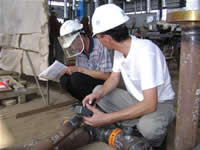 KAZ-EN Industrial Welding Control Company was created in Atyrau / Kazakhstan
in 2002 and it continues to day its development and project activities from head
office located in Atyrau.Kaz-en,which has activities in areas that special skills and
pay taxes as a Kazakhstan firm (TOO-LLP).
The essential management principles of KAZ-EN are based on the satisfaction
of its clients for all project activities executed under its responsibilities.
The management of KAZ-EN has committed to :
-Satisfy its clients during all phases of Project
-Comply with contractual,legal and statutory requirements,
-Supply clients with high quality of NDT ( Non Destructive Testing ) work including
compliance with planning,servicing and quality considerations,
-Improve continuously the quality of NDT works using qualified personnel and material
during execution of all projects. Any complaint made by client,shall be reviewed by management and satisfactory solutions shall be implemented in order to satisfy client.
Sahin CAKMAK

General Manager